A creamed spinach recipe – you're probably thinking one of two things:
"Creamed." Yeah Amy, like that is healthy – right?  Ha-ha.
Spinach. Ew. Why?!
But when your friend is a chef, sends you this recipe from her catering company I mean you gotta do it? Right?  And maybe even hide some veggies in there too.
So let me back up – because me and creamed spinach have been in a love/hate relationship.  Mostly hate, from me.
In my quest for healthy eating – I've forced myself to like many foods (yes, like small child) because they are good for me, dammit!  But to this day I still struggle with cooked greens.  Mine just seem to always turn out so slimy!  So, when my chef friend Jenny  (look her up in the San Francisco area with Citizen's Pop Up or on Instagram at @brownbutteraddict) told me she had a recipe for me to try I got all excited.  And then she told me it was creamed spinach…ugh.  But like the good friend I am, I do have my firm rule that I will try anything twice – and I mean Jenny thought of me!  How could I pass this up!
Y'all. I am pleased to tell you that I successfully did not get "slimed" while eating this dish.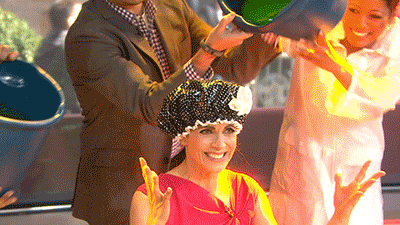 I like actually really liked this dish.  I loved how it helped me get extra veggies into my diet (cauliflower is so in right now) and I mean spinach is GOOD for you.  It's time I stopped hiding it.  I liked it so much I asked her if I could share it here with ya'll and she obliged.
The only tweaks I made to her creation, is I actually doubled the recipe because it did keep so well in the fridge (hello meal prep!) and I was able to work it into several meals this week (3 words, ramekin, egg, oven…SO GOOD for breakfast!)  But, you could easily 1/2 it if you wanted to.  My advice? Take out some of the sauce and save it in the freezer and just add as much spinach as you like.  And I roasted my garlic. Because, I love garlic.
Jenny's Cauliflower Cream Spinach
makes 6-8 side dish servings
1 Head of Cauliflower
2 Shallots or 1 Yellow Onion
1 small head of Garlic
1 lemon, zested & juiced
2 tsp grated nutmeg
1/2 cup of parmesan (or 1/4 cup nutritional yeast for vegan)
Bag of Fresh Spinach (about 8-9 oz)
Sea Salt
Extra Virgin Olive Oil (EVOO)
Preheat your oven to 425 degrees. Lightly drizzle a cookie sheet with EVOO. Cut your garlic head in half and discard of any husk that is lost in the process, keeping the cloves bunched together.  Peel and slice the onion or shallots, slice the head of cauliflower into 1/2 pieces or florets and place all items on a cookie sheet.  Lightly drizzle the top with olive oil and salt.  Roast the cauliflower, onion, and garlic on 425 for  20-25 minutes, or until it starts to brown (it's ok if it is not cooked all the way through).
In a large saucepan, add the cauliflower and onion and the now roasted garlic cloves (remove from husk) and 2 cups of water.  Turn the stove to high to get the water to boil and let it simmer until most of the water is evaporated from the pan and the cauliflower is cooked.  Drain excess liquid if needed (you should have no more than 1/4 cup in the pan).  Add the cheese (or nutritional yeast), lemon zest and nutmeg and puree the cauliflower veggie mixture together with an immersion blender or in a food processor.  It should be more like a cream than a mash. Set aside. Pro tip: I use an immersion blender for almost all my cooking like this, you can use it in the same pan that you cook in – so long as it is metal – and less dishes! 
In a separate pan, sauté the spinach in a little olive oil until it wilts.  Stir into the hot cauliflower cream mixture until the spinach is just cooked. Serve warm as a side dish to some delicious protein, eat the whole durn bowl if you want!  Or – keep the leftovers and eat it with a baked egg on top (so good!).